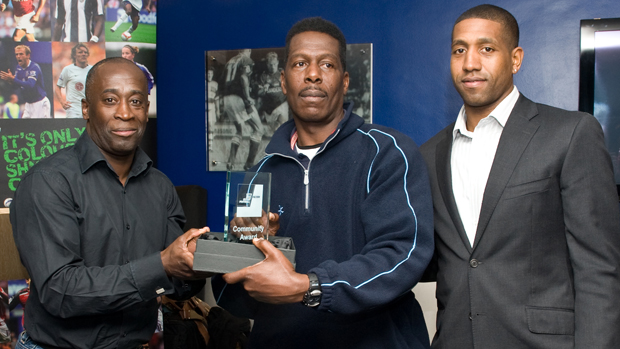 Trevor Hutton was a man for the community. Dedicating his time and efforts to the growth and development of young people. Trevor Hutton spent the best part of 30 years working as a community activist in the form of a school teacher, mentor, football coach and father figure to 100's of young people in Northwest London and surrounding area's.
Trevor Hutton used this genuine love for people to co-found AFC Wembley in 2007. This genuine love accompanied by vision saw AFC Wembley grow into one of the most successful and effective grassroots football clubs in the country.
Trevor was passionate about enhancing the lives of young people, and he gained deserved recognition when he received a special accolade for 'outstanding community contribution' at the Pride of Brent awards in 2013.
"It goes to show what you can do when the community gets together," said Trevor after being awarded the accolade for his work with AFC Wembley. "This award isn't mine, it's for all of us who work together. Whatever I have done, I haven't done it on my own as I have a good team of coaches, volunteers, parents and kids. This is a community effort and shows what we can do when we get together."
His role in grassroots football was acknowledged nationally in 2010 when he was announced on Football's Black List – backed by The Football Association, the Professional Footballers' Association and Kick It Out.
Trevor Hutton passed away on April 30th 2014 leaving behind a legacy that will live on forever.
"I remember visiting Trevor at AFC Wembley on a rainy Saturday morning and it struck me then that he knew every player, young and old, and that they all looked at him with respect and love. This was reaffirmed when my colleague Troy Townsend and I attended the club's awards ceremony in Brent. That night hundreds of people came together to celebrate the young players.
                     – Roisin Wood – Director of Kick it Out
"Trevor was a real man of the people. He was passionate and knowledgeable about life, sport and football in particular. He has touched many lives, including my own, and he will be a real loss. A special man has left a legacy which his friends, family and associates can be proud of."
                     – Rodney Hinds – The Voice Newspaper
"Trevor played a pivotal role in grassroots football, and was central to a number of initiatives which helped youngsters across the Wembley area. He will be missed."
                     – Greg Dyke – The FA